About us
Where we put the waste
Our facilities have a combined Divert from Landfill Rate averaging 95%.
All waste entering one of our sites is recorded via a weighbridge. It is then sorted by waste type, segregated via machine and then further by hand. In house stockpiling/processing take place before the recycled/processed materials leave site, also via a weighbridge.
The flow chart below illustrates the processing and final destinations of wastestreams received. To zoom in on the flowchart below please click this link...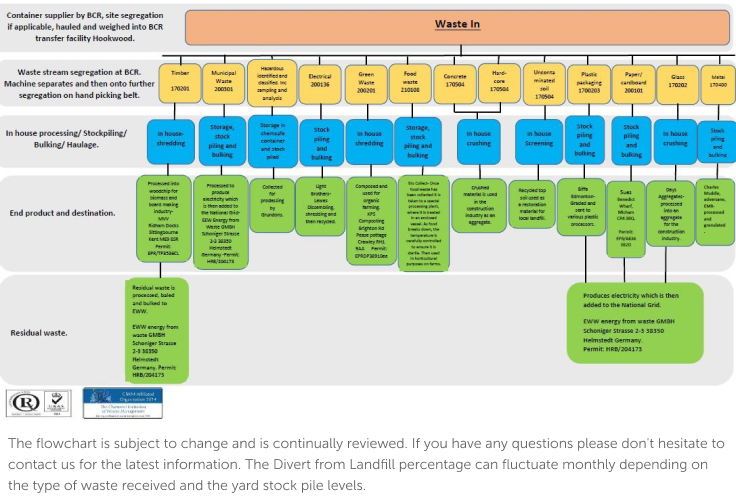 Reporting
Data on waste received and processed/recycled material leaving is collected in our operating systems via site weighbridges and trained operatives with assessment on tipping.
This enables us to provide detailed information to help customers demonstrate compliance with Waste Regulations and in-house sustainability targets.
We can supply this information as monthly reports which can be requested either through our Sales and Operations Team or directly via the following email wastedata@britaniacrestrecycling.co.uk.
The reports contain actual waste data, not predictions, and are run after month end using the actual recycling and recovery performance of the facilities.
We advise to allow up to 7 working days for data processing however we endeavour send out the report before this. Once a report format has been confirmed we usually have it set up on the system for a much quicker turnaround.
More information on business and commercial waste compliance can be found here; https://www.gov.uk/managing-your-waste-an-overview/overview, with full legislation details found here; https://www.gov.uk/waste-legislation-and-regulations